Melbourne, Thursday, November 3, 2023 – The Connecter, a groundbreaking decentralized finance app designed to empower individuals worldwide, has been selected as one of the top ten startups from a pool of 10,700 applicants to join Startupbootcamp Australia's Sustainable Fintech 2023 Cohort. This prestigious program will provide The Connecter with essential capital support and business resources to further their mission.
The Sustainable Fintech 2023 Cohort, composed of 10 fintech startups from eight different countries, embodies the vision of revolutionizing global finance through innovative AI-driven solutions. Startupbootcamp Australia's Sustainable Fintech Program focuses on various themes, including Generative AI, Fraud Prevention, Embedded Finance, DeFi & Blockchain, and Financial Services in the Metaverse. StartupBootcamp has accelerated over 1600 startups with its average funding being 1.7MM, a portfolio valuation of 5.6BB and access to over 5000 global mentors and experts.
The Connecter, based in Bucharest, Romania, stands out in this cohort as a DeFi Super app offering a comprehensive suite of decentralized financial tools tailored for everyday users. This revolutionary platform aligns with the core principles of decentralized finance, providing global access to financial services, higher interest on savings, and financial autonomy and ownership.
Trevor Townsend, CEO of Startupbootcamp Australia, expressed his enthusiasm for the selected startups, stating, "Creating change is all about starting small with a big vision and then making it happen. These startups are working at the leading edge of financial wellness and inclusion, distributed and embedded finance solutions, and impact-based investment tools."
Startupbootcamp Australia saw in The Connecter not just a project, but a vision and a team that embodies what it means to be innovative and forward-thinking in the financial sector. "We're not just doing something; we're being the change we want to see in the world of finance", states, Paige Soponar, COO and Co-Founder of The Connecter.
Over the next three months, The Connecter and other selected startups will participate in an intensive accelerator program, where they will receive mentorship and support from industry leaders and experienced partners. The Connecter, with its commitment to expanding the benefits of DeFi to a broader audience, will collaborate with partners including Amazon, Stripe, Hubspot, and more, to further enhance its offerings.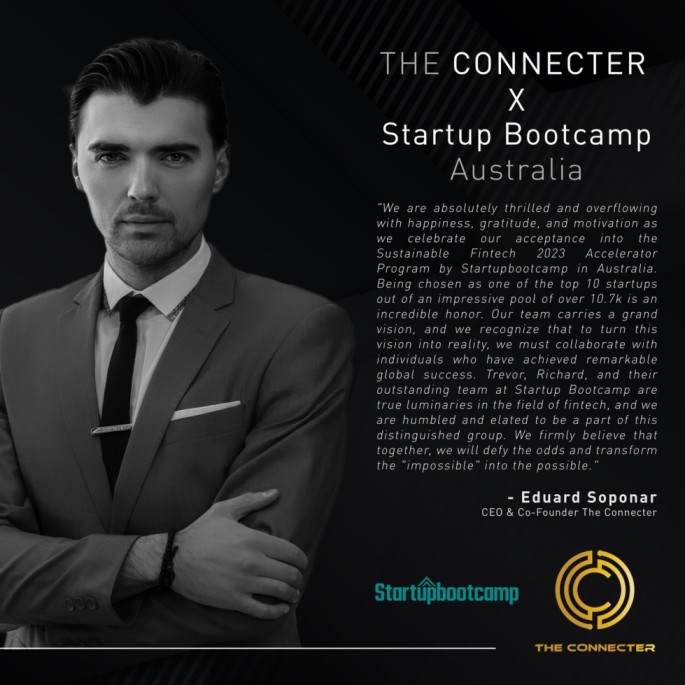 The Sustainable Fintech program aims to bring a positive impact to the finance industry by fostering  collaboration and innovation within the fintech ecosystem. As The Connecter and the other startups  embark on this transformative journey, they will work towards making sustainable finance more  accessible and inclusive. "….the sort of impact we are looking to make , we wouldn't have been able to  achieve with our the support of startup bootcamp"- Eduard Soponar, CEO and Founder of The  Connecter.  
For more information about The Connecter and its DeFi offerings, please visit www.theconnecter.io
About The Connecter: The Connecter is a DeFi Super app that provides a full suite of decentralized financial tools designed for the everyday person. With a focus on accessibility, The Connecter empowers individuals to take control of their finances and enjoy the benefits of decentralized finance.
About Startupbootcamp Australia: Startupbootcamp Australia is an innovation ecosystem with a mission to foster and support the growth of innovative startups across various industries, including fintech. The Sustainable Fintech program is designed to bring together startups and industry leaders to drive positive change and innovation in the finance sector. It's average funding for startups is 1.7MM with a portfolio valuation of 5.6BB and access to over 5000 global mentors and experts.
Daily magazine for entrepreneurs and business owners